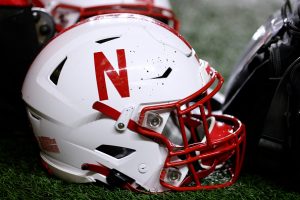 When newly hired Nebraska head coach Matt Rhule took over Scott Frost's regime in November of 2022, the Cornhuskers recruiting class was ranked 60th nationally and last in the Big Ten. Five months later, they are the 23rd-ranked class in the nation.  As well as a transfer portal ranking of 19th. This jump in class rankings was due to the staff addressing key missing pieces. But perhaps the most impressive thing that Nebraska has done is to be able to recruit the transfer portal effectively. This was demonstrated when the Cornhuskers plucked impact transfers from the SEC to create competition and depth on both sides of the ball.
Now that Nebraska's recruiting class is in place, here are the top players from each position group that the Cornhuskers have landed in both the early signing period as well as National Signing Day.
Nebraska 2023 Signing Day Class In Review
QB- Jeff Sims
As the lone transfer quarterback signee in Nebraska's 2023 recruiting class, Sims looks to be an immediate contributor to win the starting job next season alongside Casey Thompson. Last season at Georgia Tech, he threw for 1,115 yards, five touchdowns along with three interceptions. On the other hand, Thompson was just as capable for the Cornhuskers passing for 17 touchdowns and ten interceptions last season. Sims also joins backup junior quarterback Chubba Purdy and Logan Smothers in the mix for playing time at the position this fall.
GBR #GiveEmGame pic.twitter.com/NZZcnF7iq7

— Jeff Sims (@JeffSims_10) December 18, 2022
RB- Kwinten Ives
As a top running back in the state of New Jersey and top 35 in the country. Ives' high school career saw him rush for 3,005 yards and 49 touchdowns in his junior and senior seasons. However, for all his accolades in high school don't expect Ives' path to start for the Cornhuskers to be easy. He has stiff competition inside newly hired offensive coordinator Marcus Satterfield's room. Starting running back Anthony Grant led the team throughout the season with 915 yards and six rushing touchdowns. Backup running back Ajay Allen had a strong showing as well with 190 yards and two touchdowns last season.
WR- Malachi Coleman
As a highly touted 4-star wide receiver out of Lincoln East High School, signee Malachi Coleman is undoubtedly one of the top recruits in the country. Coleman came into his own his junior season of high school.  Where he caught 17 passes for 561 yards averaging 33 yards per reception. The Nebraska native also added to his recruiting stock at the annual Polynesian Bowl, where he caught two touchdowns. With the departure of Second-Team All-Big Ten wide receiver  Trey Palmer to the NFL Draft, he looks to compete for playing time alongside others with experience in senior Isaiah-Garcia Castaneda, junior Xavier Betts, and former Virginia wide receiver Billy Kemp IV.
DL- Princewill Umanmielen
As the younger brother of current Florida defensive lineman Princely Umanmielen, 4-star defensive end  Princewill Umanmielen recorded 130 tackles along with 21 sacks over his junior and senior seasons at Manor High School in Texas. Because of these distinctions, he was highly regarded as a top 300 prospect in the 2023 cycle by the likes of ESPN, 247 Sports, Rivals, and On3. He joins a bevy of highly regarded talent from the transfer portal.  Although what is most important is his pairing with a productive starter and future mentor in Ty Robinson.  Robinson produced a total of 24 tackles, two tackles for loss, and one pass breakup to end last season for the Cornhuskers.
100% COMMITTED #GBR pic.twitter.com/y6Y39FgxY7

— Princewill Umanmielen (@hoodiiewill) December 19, 2022
TE- Arik Gilbert
Throughout his eight games at LSU, Arik Gilbert was named to the Freshman All-SEC Team. While blossoming into a star tight end when he caught 35 passes for 368 yards and two touchdowns. He then transferred to Georgia and was less productive.  However, he was able to catch two passes for 16 yards against Vanderbilt. With the departure of leading tight end Travis Vokolek, Gilbert looks to be an immediate contributor to back up redshirt freshman Thomas Fidone along with sophomores Nate Boerkircher and AJ Rollins.
OL- Gunnar Gottula
As a starting offensive lineman for the Lincoln Southeast Knights, 3-star signee Gunnar Gottula put together a standout season. He amassed an All-Nebraska selection along with a second-team All-Nebraska pick as a junior. The offensive line competition is wide-open.  It is no secret the unit struggled mightily last season under offensive line coach Donovan Raiola. Gottula is most likely a developmental project as he hopes to learn alongside experienced members of the O-Line. Namely, right tackle Bryce Benhart, left guard Ethan Piper, left tackle  Teddy Prochazka, and German-born left guard Nouredin Nouili.
LB- Eric Fields
Hard-hitting 3-star Oklahoma linebacker signee Eric Fields flashed in both of his junior and senior seasons.  Fields had a total of 270 tackles at Ardmore High School. Fields also recorded 180 tackles in 10 games, while adding two sacks, and a pair of fumbles. Look for him to contribute under new defensive coordinator  Tony White. Especially, with established players such as juniors Jimari Butler and Nick Heinrich.
AGTG #COMMITTED #GBR @Omeezi_ @CoachMattRhule @CoachKennedy7 pic.twitter.com/5SRmYUj4ys

— Eric (@EricFields24) December 21, 2022
CB- Dwight Bootle II
As the younger brother of former Nebraska cornerback Dicaprio Bootle, Nebraska signee Dwight Bootle's senior season at Miami's Palmetto High School, he recorded 32 solo tackles.  In fact, in his junior season at Killian High School, he had 67 tackles and 22 pass breakups. He joins Florida transfer Corey Collier Jr along with seniors Quinton Newsome and junior Braxton Clark under defensive back coach Evan Cooper.
S- Rahmir Stewart
As one of Philadelphia's top safety prospects, signee Rahmir Stewart was a standout for Imhotep High School. As a junior, he recorded 12 tackles and three interceptions. Additionally, in his senior season, he doubled his production when he finished with 31 tackles and three interceptions. He joins junior safety Myles Farmer who was an All-Big Ten Selection with 73 tackles, one tackle for loss, and one interception in 2022.
The post Nebraska 2023 Signing Day Class In Review appeared first on Last Word on College Football.