While the Chiefs reside as the clear favorites in the AFC, multiple successful rebuilds have strengthened the conference and created considerable depth going into the 2021 season. In the NFC, depth is harder to find.
The Buccaneers operated aggressively this offseason, bringing back every starter and most of their top off-the-bench contributors to chase another championship, and late-June betting odds reflect this. Tampa Bay resides as the clear NFC favorite, per Las Vegas. The team did not enter 2020 on this pedestal, but the NFC landscape looks less imposing a year later.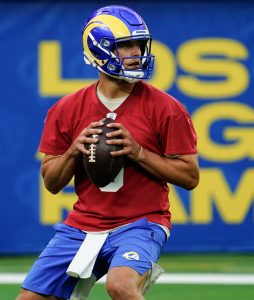 The Saints exited the 2020 season in a new tier of salary cap hell, and although GM Mickey Loomis navigated it, their 2021 team may take a step back. Oddsmakers certainly believe this will be the case in the franchise's first post-Drew Brees season. New Orleans has been the NFC's most consistent team over the past four years, going 49-15 in that span, but its future Hall of Fame quarterback retired. Tampa Bay's path back to the Super Bowl also may not involve another Canton-bound passer — Aaron Rodgers — which further muddles the equation.
January's Matthew Stafford trade seems a good place to start. The Rams dealing two first-round picks and change for the longtime Lions passer provides Sean McVay with a quarterback upgrade, and the team perpetually unconcerned with first-round selections is operating like an all-in contender. Los Angeles, which Bovada gives the NFC's second-best odds to advance to Super Bowl LVI, also re-signed top edge rusher Leonard Floyd. While the Rams' penchant for big swings and big extensions led more key role players out of town in free agency, with safety John Johnson and defensive lineman Michael Brockers exiting, they return four starters from Pro Football Focus' No. 3-ranked offensive line.
But the NFC West may be the NFL's toughest division. No rebuilds are taking place here, separating it from most of the league's divisions, and the 49ers rank alongside the Rams — per Bovada — in Super Bowl odds. San Francisco endured vicious injury fortune last season but has Super Bowl LIV starters — Nick Bosa, George Kittle, Deebo Samuel — due back from injury. And the team kept Trent Williams — on an O-line-record contract. Kyle Shanahan's squad also moved the needle at quarterback, bringing in Trey Lance at a historic cost. Lance's readiness may determine the 49ers' outlook. Although Jimmy Garoppolo was effective (12th in QBR) when fully healthy in 2019, he missed 23 games over the past three seasons.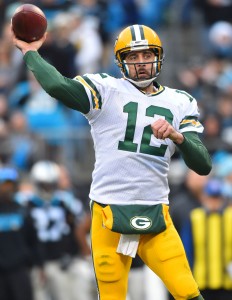 The Seahawks diffused Russell Wilson trade rumblings and added veteran guard Gabe Jackson. Their defense will be without Jarran Reed and probably K.J. Wright next season, however. Seattle has not advanced to an NFC championship game since Wilson's rookie-contract years but still has the division's most accomplished quarterback. The Cardinals brought in multiple impact starters, in future Hall of Famer J.J. Watt and Pro Bowl center Rodney Hudson, in an effort to capitalize on Kyler Murray's rookie-deal window. But Murray struggled down the stretch last season, and Arizona will have two new cornerback regulars.
Rodgers' commitment to being done in Green Bay represents the NFC's biggest domino. The reigning MVP has not budged, and this standoff is expected to drag on to training camp. The Packers trading Rodgers, or the superstar passer being out of the picture while the team retains his rights, will probably take them off the board as a Super Bowl threat. Given the Packers' 26-6 performance over the past two seasons, Rodgers' status looms large in this year's Super Bowl equation.
What sleeper teams realistically factor in here? The Cowboys extended Dak Prescott and hired a new defensive coordinator (Dan Quinn), but they have won one playoff game during their now-wealthy starter's tenure and allowed a franchise-record 473 points in 2020. Washington boasts one of the league's best defenses but opted against trading up for a quarterback in Round 1. Ryan Fitzpatrick will turn 39 this year and has never made a playoff start. The Bears did trade up for a passer, and the Vikings retooled their defense. The Giants made multiple splashy receiver additions but have big questions up front. Do any of these teams qualify as legit Bucs obstacles?
Vote in PFR's latest poll and weigh in with your NFC assessments in the comments section.
//static.polldaddy.com/p/10864298.js
Take Our Poll
Photo courtesy of USA Today Sports Images.