The battle to replace Cody Parkey in Chicago is getting a little tighter. The Bears have released kickers Redford Jones and John Baron II as part of a handful of roster moves made Sunday, they announced on Twitter.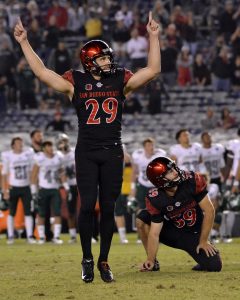 After Parkey's now infamous double-doink eliminated the Bears from the playoffs last year, they've gone all out in their search for his replacement. They just had eight kickers at their rookie minicamp for tryouts, and they had four on the roster before making this move. Jones is the former Tulsa kicker who the Bears signed back in January. Baron was an undrafted free agent from San Diego State who Chicago just added last week.
With Baron and Jones gone, only Elliott Fry and Chris Blewitt are left. The Bears have left no stone unturned, and it wouldn't be surprising if they weren't done adding to the kicking group just yet. Fry shined in the recently-folded AAF, while Blewitt is the former Pitt kicker signed back in March.
Jones and Baron weren't the only ones who got bounced from the 90-man roster, as defensive back Adarius Pickett and defensive end Lawrence Marshall were both cut as well. Pickett and Marshall were both rookie undrafted free agents who were just signed recently, from UCLA and Michigan respectively.
The Bears signed two rookie undrafted free agents to take their place, offensive lineman Tommy Doles from Northwestern and defensive lineman Jalen Dalton from North Carolina. Both players participated in the minicamp.
The Bears have had an unstable kicking situation recently, and it's one of the team's biggest needs as they look to repeat as NFC North champions in 2019. The battle will be closely monitored in training camp.
Photo courtesy of USA Today Sports Images.