Chicago is leaving no stone unturned in their search to replace Cody Parkey. Parkey, of course, struggled all of last season and missed the last-second kick in the playoffs that would've sent the Bears through to the second round.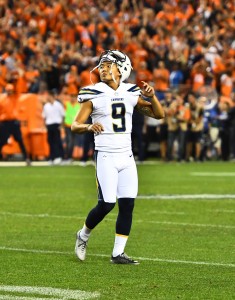 The Bears signed former Tulsa kicker Redford Jones after a group tryout in January, but they aren't going to just hand the job. Chicago is hosting a pair of kickers just released from their AAF contracts when the league folded, sources told Brad Briggs of The Chicago Tribune. Younghoe Koo and Nick Rose will be brought in for auditions Wednesday.
Briggs adds that it's "believed they might bring in at least one additional kicker that day," and Briggs floats fellow AAF alum Elliott Fry as a likely option. Both Koo and Rose have seen regular season action, and both have spent time with the Chargers. Koo entered the 2017 season as Los Angeles' starting kicker, but was replaced after a few missed clutch kicks early in the season.
Koo is talented though, and he beat out Josh Lambo with the Chargers for a reason. If he can get things sorted out mentally he has the potential to be a serviceable kicker. Rose has spent time with the Redskins and Chargers, and is 11/14 on field goals in his career. Kicker is clearly a priority for the Bears in 2019.
Photo courtesy of USA Today Sports Images.