The Bears moved on from running back Jordan Howard earlier this week, and the position is now a "major need," according to Adam L. Jahns of the Chicago Sun Times.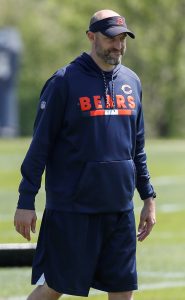 Tarik Cohen did break out in 2018, tallying 1,169 yards from scrimmage and eight total offensive touchdowns. Still, the 23-year-old has proved to be more of a threat in the passing game than the running game. Meanwhile, free agent addition Mike Davis impressed in limited work with Seattle in 2018, averaging 4.6 yards per carry and tallying 34 receptions. However, there's no guarantee that the veteran can carry the running-side of the platoon.
As a result, the team is focusing on the draft to add a running back. The team doesn't have their first selection until the third round, but the Bears should have plenty of opportunities to add a weapon to their offense; as Jahns writes, there are plenty of intriguing mid-round running backs in this year's draft.
Head coach Matt Nagy recently talked with Jahns about the team's plans for the position, including draft prospects and their free agent additions. We've compiled some of the notable soundbites below:
On the running back prospects in the upcoming draft:
"Any coach will tell you there's a nice group of backs. They all kind of have their unique style. So some of them, they might not have the home-run speed, but he can run you over. This guy might have average hands, but he's really great between the tackles. They're all a little different.
"It comes down to, teams that are looking at running backs, what flavor do you like? What kind of ice cream do you like? And then, when you get in the draft, where are they going to be at?"
On how the team evaluates these running back prospects:
"It's hard to evaluate a lot of guys on tape and get a good feel for them. You try to as much as you can, but to be able to go there and see guys is great. We've done it with the quarterback position in years past, and it helps you out a lot."
On the addition of Davis, who signed a two-year, $6MM contract earlier this month:
"We thought that would be a good addition to our side of the ball on offense. We're intrigued to get him in and start learning who he is as a person…From all the research we did on him, we thought [Davis] was a great fit."
On wideout/return man/occasional running back Cordarrelle Patterson, who signed a two-year, $10MM contract:
"We saw a role for him. You see what he did in New England with the jet sweeps, the [end] arounds [and] the screens, and I think that that's a good fit for him. But for me, it's kind of like a kid in a candy store."
Photo courtesy of USA Today Sports Images.