The Bears have designated Teven Jenkins to return from injured reserve, head coach Matt Nagy announced. The Bears will now have a 21-day window to activate the rookie offensive tackle.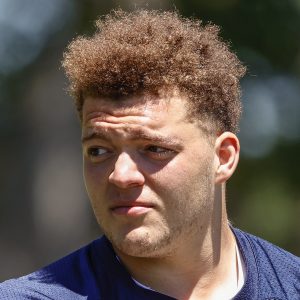 "It's been a while since Teven's put the pads on, so we'll start there," Nagy said (via NBCSports.com). "That will be exciting for us to see where he's at. I know he's really anxious and excited to get out there. As far as the sides and stuff, we'll work through it with him. It's just gonna be honestly, really, an hour-by-hour, day-by-day process with him. But it's definitely a good thing to have, and we're excited to get him out there."
Jenkins, the No. 39 overall pick in this year's draft, hasn't put the pads on since undergoing back surgery in August. Before that, the Bears planned to use him as their No. 3 tackle. On the plus side, they were able to add Jason Peters that same week. Once Jenkins is able to return, he'll slot somewhere behind the ex-Eagles star and Elijah Wilkinson. The Bears also have Lachavious Simmons and fifth-round rookie Larry Borom on hand.
The Bears packed the No. 52 choice and a third-round pick to move up for Jenkins, so they clearly have high hopes for him. Now, the Oklahoma State product could be days away from making his debut.
Photo courtesy of USA Today Sports Images.