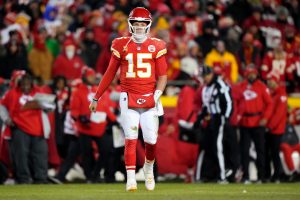 The Kansas City Chiefs face off against the Philadelphia Eagles in Super Bowl LVII. While the Chiefs had a slugfest against the Bengals in the AFC Championship, the Eagles had arguably the easiest schedule to the Super Bowl. The Chiefs will need to play a near-perfect game to beat the Eagles, but what are the three keys to a Chiefs Super Bowl win?
Three Keys to a Kansas City Chiefs Super Bowl Win
Patrick Mahomes Mobility
Patrick Mahomes put on a heroic effort in the AFC Championship game. He overcame an ankle injury and has willed this team to another Super Bowl appearance. This team goes as far as their leader takes them. After the game, a reporter asked Mahomes about his ankle. His response should raise concerns for Chiefs fans. Mahomes said, "I tried to do whatever I could to win and obviously there were times where you could see it wouldn't let me do what I wanted to."
After two weeks of aggressive physical therapy and a chance to heal, Mahomes may be 100 percent. It will be apparent during warmups of the Super Bowl how well he can move around on it. If he is still hobbled, the Eagles pass rush could cause huge problems for Kansas City. The Eagles were only two sacks away from setting a regular season sack record in 2022. Between Fletcher Cox and Haason Reddick, a slowed-down Mahomes should be worried. If he is mobile, he can create mismatches. If his mobility is hindered, it might be a long evening.
Containing the Eagles Rushing Attack
It would be one thing to contain a prolific running back. The Eagles have Miles Sanders, who scored 11 touchdowns this year. He also rushed for over a thousand yards and almost five yards a carry. That is a mild headache for a defensive coordinator. Now add in Jalen Hurts, who in only 15 games is second in the NFL in rushing touchdowns. Hurts is a quarterback with fifty rushing yards a game and tied Derrick Henry in touchdowns. Consequently, the read option and quarterback scrambles will be key to prevent on Sunday. It will be interesting to see what Jonathan Gannon schemes up for Hurts.
The Chiefs had the eighth-best rushing defense in 2022. In the playoffs the Chiefs have been a slightly above-average defense, allowing 20 points a game. When considering they played against Joe Burrow and Trevor Lawrence, it is even more impressive. As George Karlaftis and Frank Clark chase after Hurts, their contain technique will be put to the test. Chris Jones will need to clog the middle and be a game wrecker, or the Eagles will make this game look like a 1945 rushing clinic.
An Offensive X-Factor
The world knows that Travis Kelce is the main offensive weapon. He has led the team in reception, touchdowns and yards in 2022. Heck, Kelce might be the best to ever do it at his position. But the Eagles know this too and will do everything they can to shut him down. In fact, they will put so much pressure on Kelce someone else has to step up. In the AFC Championship that someone was Marquez Valdes-Scantling. At times in the regular season, it was JuJu Smith-Schuster. Isaiah Pacheco is a seventh-round draft pick who has impressed. The Chiefs traded for Kadarious Toney hoping he would make an impact. In order to win on Sunday, one of these players will need to step up.
Bottom Line on Super Bowl LVII
In contrast with Super Bowl LIII which ended 13-3, this Super Bowl will be a shootout. The Chiefs need great performances from their great players, and an unlikely player to step up to bring home the Lombardi Trophy.
Main Photo: Kareem Elgazzar – USA Today Sports
The post 3 Keys to a Kansas City Chiefs Super Bowl Win appeared first on Last Word on Pro Football.