CHICAGO – One of the NBA's biggest records fell on Tuesday evening in Los Angeles.
Lakers forward LeBron James scored 38 points to reach 38,390 for his career against the Oklahoma City Thunder at Crypto.com Arena. That helped him pass Hall of Fame center Kareem Abdul-Jabbar (38,387) for the all-time scoring record, ending his reign as the NBA's scoring king, a title that he held since April 5, 1984.
On that night, Jabbar passed Wilt Chamberlain, who is now seventh on the list with 31,419 points.
https://embed.sendtonews.com/player4/embedcode.js?fk=BQE2cd8v&cid=10040&offsety=140&floatwidth=400&floatposition=top-right
According to ESPN Stats and Info, James is the seventh player in NBA history to have possession of the league's scoring record.
Some Bulls fans who were watching the game may have been wondering where the greatest player in franchise history might be on the list.
Michael Jordan never held the scoring record but he certainly approached it during his Hall of Fame career that was mostly spent with the Bulls.
The six-time NBA champion and five-time regular season MVP scored 32,292 points, which is currently fifth on the NBA's all-time scoring list.
Karl Malone is third behind James and Abdul-Jabbar as he scored 36,928 points in 1,476 games with the Jazz and Lakers from 1985-2004. The late Kobe Bryant, who played his entire career with the Lakers from 1996 through 2016, is fourth with 33,643 points in 1,346 games.
Dirk Nowitzki is next behind Jordan with 31,560 points in 1,522 games with the Dallas Mavericks from 1998 through 2019.
Only two active players in the NBA are in the Top 15: Carmelo Anthony and Kevin Durant.
Anthony, who is currently a free agent, has scored 28,289 in his career from 2003 through 2022. Durant has 26,684 points since he joined the NBA in 2007.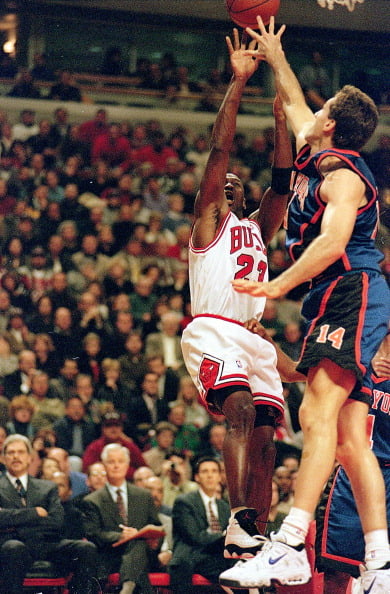 Jordan played 13 of his 15 seasons in Chicago, finishing up with the Washington Wizards from 2001 through 2003. In 930 games with the Bulls, Jordan scored 29,277 of his 32,292 of his career points, averaging 31.5 points a contest in Chicago.
Overall, Jordan finished with a 30.1 points per game average, which is tied with Chamberlain for the highest among those in the Top 50 scorers in NBA history.