While the playoffs are well underway, many teams have already started their offseason planning.  What storylines lie ahead around the league in what is shaping up to be a likely busy NHL offseason?  Next up in our Offseason Keys series is a look at the Chicago Blackhawks.
There were certainly some positives in Chicago in 2018-19.  Patrick Kane and Jonathan Toews had career years, Dylan Strome made an immediate impact after being acquired midseason, and Alex DeBrincat has quickly emerged as one of the top young scorers in the league.  Despite all that, they still missed the postseason while only besting their 2017-18 performance by eight points.  GM Stan Bowman has started to change the roster around over the past year but more work is in store.  Here's what that work will entail.
Decide On The Third Pick
Regardless of which order they go in, Jack Hughes and Kaapo Kakko are going to be the first two picks in the draft.  As a result, the intrigue of the draft truly starts with Chicago after they won in the Draft Lottery to move up from tenth overall to third.
One player that has been frequently projected to go at number three is defenseman Bowen Byram.  However, the last three first-round picks for the Blackhawks have all been defenders and while the current back end needs some work, help will soon be on the way from that group of prospects.  While teams always claim they'll draft the best player available, organizational depth can potentially skew who a team believes the best player is.
There are also some intriguing forwards on the board that they could lean towards given their defensive depth in the pipeline.  Alex Turcotte, Kirby Dach, Dylan Cozens, and Vasili Podkolzin have all been ranked in the number three slot by various publications throughout the year.
Basically, no one has really separated themselves from the pack just yet.  Finding the best of the bunch would go a long way towards getting Chicago back on the right path after missing the playoffs for two straight years.
Extension Talks
Alex DeBrincat's rookie season in 2017-18 was quite impressive before even considering the fact that he was a second-round pick.  28 goals and 52 points aren't too shabby for a rookie.  Not only did he beat those numbers this past season, he obliterated them, putting up 41 goals and 76 points.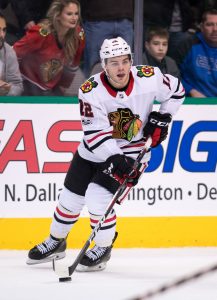 Having completed the first two years of his entry-level deal, DeBrincat is now a year away from restricted free agency.  He has given himself plenty of negotiating leverage through the first two seasons of his career and it's fair to say that he will be looking for similar money as some of the other top players that are entering restricted free agency this summer.
If talks haven't started already (he can't sign until July 1st but they can always talk before then), they should soon.  However, this is a case where both sides may opt to wait to see how things play out with the other RFAs first to see what the precedent winds up being.  If it's too rich for Chicago's liking, they could opt to sit back and wait until next summer.  However, if DeBrincat has another season like this one, that price tag is only going to go up.  Plus, it may be beneficial to know what the cost is going to be to help them plan accordingly for free agency this summer.
It wouldn't be surprising to see them inquire about what goalie Corey Crawford's plans are beyond next season.  He's a year away from unrestricted free agency and the team doesn't have a future starter in the system.  Of course, his lengthy injury history is a red flag but at the very least, expect the team to get an idea of what it may cost to keep him around or how much they need to hold off on spending this summer to ensure they have enough to replace him next season.
Make Their Big Splash
Mentioning Chicago and cap space in the same sentence is something that hasn't been seen in a while unless there was a qualifier about how they had very little of it.  That's no longer the case.  GM Stan Bowman was able to shed the rest of Marian Hossa's contract and didn't add any long-term deals over the course of the season.  Between that and an expected uptick in the Upper Limit, the Blackhawks can now take a run at the higher end of the free agent market if they so desire.
They've been speculatively linked to Artemi Panarin given his prior ties to the franchise and if they decide to put all of their eggs in one basket so to speak, they could very well be able to afford him.  They have an opportunity to add an impact piece and really add another dimension either to their attack or back end.  Given their desire to take another run with their existing core, expect them to try to make a big splash, even if it does carry some risk knowing that DeBrincat's expensive new contract is only a year away.  In particular, with Kane and Toews having resurgent seasons, there's a good chance they'll look to add another forward to hedge against possible regression and give them two strong scoring lines.
Photo courtesy of USA Today Sports Images.