A three-team deal involving the Lakers, Jazz and Timberwolves is in the process of being finalized, tweets ESPN's Adrian Wojnarowski.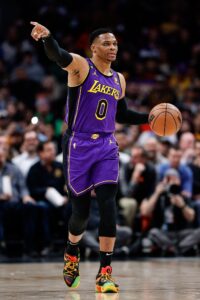 The trade will send Minnesota guard D'Angelo Russell to L.A., along with Utah's Malik Beasley and Jarred Vanderbilt.
The Wolves will get point guard Mike Conley, Nickeil Alexander-Walker, the less favorable of the Wizards' and Grizzlies' second-round picks in 2024 (from the Lakers) and Utah's second-round picks in 2025 and 2026, sources tell Wojnarowski (Twitter link).
Utah will receive Russell Westbrook and a 2027 first-round pick from the Lakers that is top-four protected. In addition, the Jazz will acquire Juan Toscano-Anderson and Damian Jones.
After months of searching, the Lakers found a way to unload Westbrook's $47.1MM contract and only had to part with one of their two tradable future first-rounders. Westbrook has adapted well this season to a sixth man role under new head coach Darvin Ham, but his contract was still considered a burden and his lack of outside shooting made him a poor fit for L.A.'s offense.
The Jazz are expected to pursue a buyout with Westbrook once the trade is official, tweets Chris Haynes of Bleacher Report. If an agreement is reached, the Clippers would be interested in signing Westbrook, according to Haynes (Twitter link). He adds that the Bulls are also considering Westbrook, which would reunite him with Billy Donovan, his former coach in Oklahoma City (Twitter link).
The Lakers were able to add the shooters they had been seeking in Russell and Beasley, along with a versatile frontcourt addition in Vanderbilt. Russell, whom L.A. selected with the second overall pick in the 2015 draft, is connecting at 39.1% from three-point range this season, while Beasley is shooting 35.9% from long distance, providing two new weapons to space the floor around LeBron James and Anthony Davis.
Russell will be an unrestricted free agent this summer, Beasley has a $16.5MM team option for 2023/24, and Vanderbilt's $4.7MM salary for '23/24 is mostly non-guaranteed, so the Lakers will still have the flexibility to create significant cap room in the offseason if they so choose. They could also operate over the cap by hanging onto Beasley and Vanderbilt and attempting to re-sign Russell and Rui Hachimura, whom they acquired last month.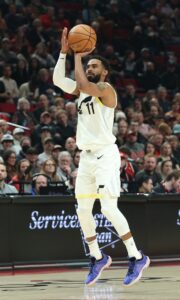 The Wolves, who have encountered difficulty incorporating Rudy Gobert into their offense, should benefit by reuniting him with Conley, his former Jazz teammate. Conley also brings a veteran presence that was lacking on a young Minnesota team — he'll be charged with helping to make the Wolves' Twin Towers approach work once Karl-Anthony Towns returns from his calf injury.
Unlike Russell, Conley is under contract for next season — his $24.4MM salary is partially guaranteed for $14.3MM. That will reduce the Wolves' cap flexibility this offseason, but also ensures they won't have to worry about losing their starting point guard for nothing in free agency.
As Wojnarowski points out (via Twitter), by acquiring the Lakers' lightly protected 2027 first-rounder, the Jazz are adding another valuable piece to their collection of draft assets. Utah will have 15 first-round picks with little or no protections through 2029, along with a talented young core to build around and possibly more than $60MM in cap space this summer.
Even before a potential Westbrook buyout, the deal will open up a roster spot for the Jazz, who are sending out four players and only taking three back. The Wolves, who are acquiring two players for one, will have to waive a player from their 15-man roster to accommodate the extra newcomer.