The league has announced its 2023 All-Star reserves during a pregame broadcast on TNT, as voted on by NBA head coaches. As usual, the list of 14 selections featured some interesting surprises.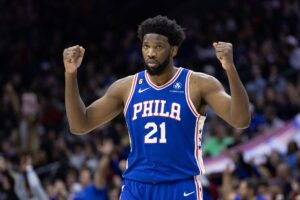 For the Eastern Conference, coaches voted in Sixers center Joel Embiid (the reigning Player of the Month in the East), Heat center Bam Adebayo, Bulls wing DeMar DeRozan, Celtics wing Jaylen Brown, Bucks guard Jrue Holiday, Pacers point guard Tyrese Haliburton, and Knicks forward Julius Randle.
Holiday, who is making his second overall All-star appearance this year, last earned an All-Star nod a decade ago while playing for Philadelphia.
Randle will receive a $1.2MM salary bonus as a result of being named an All-Star this season, according to Bobby Marks of ESPN (Twitter link). Marks adds (via Twitter) that Holiday will get a $324K bonus. And as long as he appears in at least 65 contests this year, Brown will earn a $1.55MM bonus after having qualified for the All-Star game, Marks tweets.
Among the most notable omissions in the East were a handful of point guards: the Knicks' Jalen Brunson, the Hawks' Trae Young, the Cavaliers' Darius Garland, and the Sixers' James Harden. Miami swingman Jimmy Butler also missed out. Young, Harden and Butler all made the cut last season.
In the Western Conference, Grizzlies point guard Ja Morant, Kings center Domantas Sabonis, Thunder point guard Shai Gilgeous-Alexander, Clippers forward Paul George, Trail Blazers point guard Damian Lillard, Jazz forward Lauri Markkanen, and Grizzlies big man Jaren Jackson Jr. were selected as reserves.
Being named to the All-Star team again this year will earn Sabonis a $1.3MM bonus, per Marks (Twitter link).
Lakers center Anthony Davis, Kings point guard De'Aaron Fox, Timberwolves guard Anthony Edwards, Suns guard Devin Booker, and Nuggets forward Aaron Gordon were among the Western Conference snubs.
Gilgeous-Alexander, Markkanen and Jackson are the lone first-time All-Stars among these 14 picks.
All-Star weekend tips off on February 17 in Salt Lake City. Los Angeles power forward LeBron James and Milwaukee power forward Giannis Antetokounmpo, the captains of their respective conferences, will draft their teams ahead of the 2023 All-Star Game on Sunday, February 19.