It was another disappointing season for the Bulls in 2018/19, but the franchise at least secured a few more potential building blocks, having drafted Wendell Carter, extended Zach LaVine, and acquired Otto Porter in a trade. Those last two moves will limit Chicago's spending flexibility for the 2019 offseason, but the club wasn't expected to be a major player in free agency anyway.
Here's where things currently stand for the Bulls financially, as we continue our Offseason Salary Cap Digest series for 2019: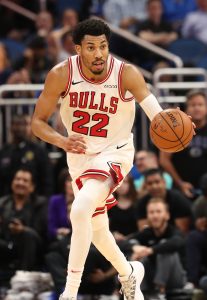 Guaranteed Salary
Otto Porter ($27,250,576)
Zach LaVine ($19,500,000)
Cristiano Felicio ($8,156,500)
Kris Dunn ($5,348,007)
Lauri Markkanen ($5,300,400)
Wendell Carter ($5,201,400)
Denzel Valentine ($3,377,569)

Omer Asik ($3,000,001) — Waived
Chandler Hutchison ($2,332,320)
Antonio Blakeney ($1,588,231)
Total: $81,055,004

Player Options
Team Options
Non-Guaranteed Salary
Restricted Free Agents
Wayne Selden ($1,931,189 qualifying offer / $1,931,189 cap hold): Bird rights
Ryan Arcidiacono ($1,818,486 qualifying offer / $1,818,486 cap hold): Early Bird rights
Rawle Alkins (two-way qualifying offer / $1,443,842 cap hold): Non-Bird rights 2
Brandon Sampson (two-way qualifying offer / $1,443,842 cap hold): Non-Bird rights 2
Total: $6,637,359

Unrestricted Free Agents / Other Cap Holds
Projected Salary Cap: $109,000,000
Projected Tax Line: $132,000,000
Offseason Cap Outlook

Realistic cap room projection: $17.26MM
The Bulls have just over $81MM in guaranteed salaries on their books for 2019/20, and will have to account for the cap hold for their first-round pick. Outside of those cap charges though, they shouldn't have to carry many more. In the cap projection above, I've assumed that the team will hang onto Arcidiacono and try to re-sign him, while renouncing their other free agents and waiving their non-guaranteed salaries.
If the Bulls make an effort to re-sign some of their other free agents, they could opt to stay over the cap this summer. That would allow the club to keep its full mid-level exception and bi-annual exception, as noted below.
Cap Exceptions Available
Room exception: $4,760,000 5
Footnotes
Harrison's salary becomes partially guaranteed ($175K) after August 15.
The salaries for two-way players don't count against a team's cap, but their cap holds do during the offseason.
The cap hold for this pick will depend on where it ultimately falls in the lottery.
Because Luwawu-Cabarrot's fourth-year rookie scale option was declined, the Bulls are ineligible to offer him a starting salary greater than his cap hold.
This is a projected values. If the Bulls remain over the cap, they'd instead have access to the full mid-level exception ($9,246,000), the bi-annual exception ($3,619,000), and their lone remaining trade exception ($1,183,573; expires 1/3/20).
Note: Minimum-salary and rookie-scale cap holds are estimates based on salary cap projections and could increase or decrease depending on where the cap lands.
Salary information from Basketball Insiders and RealGM was used in the creation of this post. Photo courtesy of USA Today Sports Images.