A few weeks into last offseason, the White Sox parted with their 2017-18 primary catcher, Omar Narvaez, sending him to the Mariners for reliever Alex Colome on Nov. 30. The White Sox found Narvaez's replacement a couple weeks later when they signed former Tigers starting backstop James McCann to a one-year, $2.5MM deal. In other words, a franchise mired in a 10-year playoff drought paid a minimal cost for an unexciting (maybe even bad) major leaguer. You're forgiven if you couldn't have cared less at the time.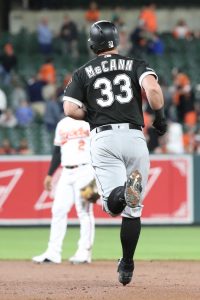 Five-plus months later, Chicago's decision to buy low on McCann looks like one of one of the shrewdest of the winter. The 28-year-old has been an absolute hitting machine as a member of the White Sox, with whom he has slashed .346/.384/.523 (145 wRC+) in 138 plate appearances. Based on wRC+, McCann has been in the same league as franchise catchers Gary Sanchez (154) and Willson Contreras (152) in overall offensive production. It's a stunning rise for McCann, whom the Tigers non-tendered in November in lieu of paying a projected $3.5MM in arbitration.
McCann can now take solace in the fact that he has been a revelation with division-rival Chicago this year while Detroit's catchers have been dreadful. That said, the Tigers weren't crazy for letting him go. McCann was a useful regular for the Tigers once – in 2017 – but still didn't manage world-beating offensive production that year. His Tigers tenure, which spanned from 2014-18, concluded with a .240/.288/.366 line (76 wRC+) and minus-0.2 fWAR in 1,646 trips to the plate. That's bad. Defensively, McCann did throw out between 30 and 45 percent of base runners in each of his seasons in the Motor City. That's good. But he floundered as a pitch framer and blocker. That's bad.
What we know is that McCann has thrived as a White Sox after he did no such thing as a Tiger. The question is whether he's born anew in a different uniform, if it's just a two-month blip or something in between. First of all, he's not going to sustain this kind of offensive production. He didn't really walk in Detroit and hasn't in Chicago either, having recorded rates in the 5 percent range with both teams. McCann's also not going to keep up a .435 batting average on balls in play, especially considering his lifetime mark is .309. Plus, as someone who currently has four home runs and has never topped 13 in a full season, he's won't make up for his inevitable drop in average with a significant power surge.
While the above paragraph paints a bleak picture, all hope isn't lost for McCann, who has cut his strikeout and chase rates by roughly 3 percent and elevated his contact rate by about 2 percent. He has also made more meaningful contact, evidenced in part by a noticeable rise in isolated power. McCann put up an unimposing .126 ISO with the Tigers, including a woeful .094 last year, though he's running a career-high .183 in the category this season. FanGraphs indicates McCann has slashed his soft contact rate by almost 6 percent, while Statcast shows his average exit velocity has hopped from 87.5 mph to 90.5. Statcast also credits McCann with a .347 expected weighted on-base average. That's a hefty 48 points below his real wOBA (.395), but it's still 24 points above average and more than respectable for a catcher.
The right-handed McCann has done a lot of his 2019 damage against same-sided pitchers, which is noteworthy in his case because they've typically stymied him. When Chicago added McCann, it couldn't have expected him to suddenly prove capable of handling righties. He has so far, though, and his offensive strides have come with improved defense. Not only has McCann continued to stop would-be base thieves at a high rate (35 percent), but he has been a scratch overall defensive player after grading out as one of the league's worst catchers in 2018, according to Baseball Prospectus. If that's not enough, McCann has developed a solid rapport with potential ace Lucas Giolito.
Adding everything up, it's clear the McCann signing has worked out brilliantly for the White Sox. He has already given Chicago 1.6 fWAR, double his previous career high, and could remain in the team's plans beyond this season. Once the 2019 campaign finishes, the Sox will have to decide whether to tender McCann a contract for his final year of arbitration eligibility. It would be a no-brainer decision right now. However, in the seemingly improbable event McCann's overall production careens off a cliff, the club will be able to move on without any damage.
Photo courtesy of USA Today Sports Images.